Can you believe it's that time of year AGAIN! Let's get to Christmas feeling GOOD with my advent exercise challenge.
Now, I'm not expecting you to be perfect and I'm well aware that treats will be creeping in regularly ('it is Christmas after all')…
BUT…
…we CAN still get to the big day feeling fabulous.
December is the month of damage limitation. Do what you can, when you can.
For the last week I've been setting mini advent challenges. Small, achievable and suitable for all levels. Now I know we're into the second week of December already but it's never too late to join in. If you want to see the challenges every day, pop over to my Facebook page by clicking here. There are also video demos there too. Or, if you just want to blast through a few challenges at once, I'll do the round up from the week on here.
Without further ado, here are the challenges from the first week. How many can you do TODAY?
December 1st: 50 squats
You can do all 50 the same or you can mix it up! Whatever you chose, do them with good form and really squeeze your bum as you come up to standing.
Which will you chose?
?Normal squats
?Jumping squats (feel the burn if you manage 50!)
?Weighted squats
?Pulsing squats
?Wide squats
2nd December 

?

?
All about your arms today…5 press ups, 5 tricep dips- as many rounds as you can in 1 minute ?
Try and repeat it several times during the day. Watch the video on my facebook page (click here) for harder and easier options ?…James also makes a guest appearance holding his favourite toy- the remote ?‍♀️ I just hope my husband doesn't see it because he doesn't let James have it (mummy is a soft touch!)
December 3rd 

?

?

?
Today is all about bum and core…
10 bridges followed by 10 bridge pulses. As many rounds as you can in 2 mins.
Add a weight if you want to make it tougher (or a baby…I just hope yours isn't as wriggly as mine ?)
Really focus on squeezing your bottom as you go up to the top and pull your tummy in at the same time.
Love this one ?
Again pop over to my Facebook page for video demo…and another guest appearance from my boy…although let's face it, he's really the star ?
December 4th 

?

?
Back to legs today and your challenge is to do 50 walking lunges.
To make it harder, do some forwards and some backwards (because you have to work a lot harder to balance) and add a weight (I used James again ?)
You get extra points if you complete this challenge in public ??round the supermarket maybe?!!! I dare you!
?

5th December 

?
Chucking a bit of cardio in today. My favourite…you guessed it…BURPEES ???
10 burpees = 1 round
How many rounds can you complete during the day?
Pick your level:
Normal option- jump out, in and up
Hard option- chest to floor
Easier option- step out, step in, stand up
A slightly distracted demo from me on the facebook page but hopefully you get the gist ?
Enjoy! Who doesn't love a burpee?!!!!
December 6th 

?

?
Get that Friday feeling with today's arm and core challenge: walk out press ups!
Love this exercise. Slow and steady wins the day. Keep your core pulled in tight and see how slow and deep you can get with your press ups.
10 reps please ??????????
Video on Facebook! And if you're someone who is guilty of watching the video and NOT doing the exercise challenge. Get up NOW and get it done ???Only just noticed I've got odd socks on in the video. Was going to try to record it again but James wanted attention ?oh well ?‍♀️
7th December 

?
Your challenge is to hold the plank as long as you can.
If you watch the video on Facebook, you'll see I managed approximately 3 seconds before grabbing James. You should ALL beat that!
If you're feeling brave, comment below with how long you managed to hold it for.
Remember you can drop to your knees to make it easier. Just make sure you tuck your bum under and pull your tummy button back towards your spine so you engage your core.
And if you need me to do another proper video demonstration, comment below and I'll re-record it!
December 8th 

?(and last one of the week)
Your challenge today is simply to do something nice for yourself. It can be anything that makes you feel good.
5 mins, half an hour…whatever you time you can spare.
Have a pamper session, watch a film or just sit with a cuppa and put your feet up. Anything goes ?
Instead of doing my usual cleaning session, I chose to paint my nails, have a sneaky afternoon g&t and read my book on the balcony whilst my boys napped! Bliss ☺️
What will you chose? ????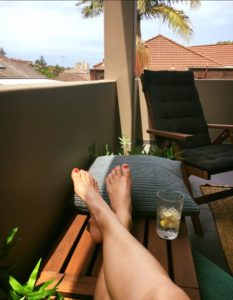 Right, that is it for the first week. How many can you do?
1.50 squats
2. 5 press ups, 5 tricep dips AMRAP in 1 min
3. 10 bridge, 10 bridge pulses AMRAP in 2 mins
4. 50 walking lunges
5. 10 burpees (AMRAP across day)
6. 10 walk out press ups
7. Plank hold for as long as you can
8. rest and relax!