🤩HALF WAY PROGRESS RESULTS AND A SNEAKY SPECIAL OFFER🤩
Day 29….half way through my 8 week Kickstart (roughly)!
The last 4 weeks have shown me just how far I'd allowed my healthy habits to slip during and after pregnancy. I didn't even realise it.
I knew I was a little bigger than normal but I had managed to kid myself that it wasn't that bad (I live in lycra so it stretched with me 😄).
It was only doing my measurements, fitness tests and weight at the start of May that made me realise I had some work to do. It's so easy to let it happen…after all you don't gain weight overnight. It's a slow and gradual process that I wasn't really even aware of. I'm just glad that the thought of turning 36 was enough to spur me into action and I didn't put it off for another few months. The longer you put it off, the harder it gets!
It's only now when I reflect on where I started and where I am now that I can appreciate how much better I'm feeling. It's so much more than weight loss. I have more energy, my skin is clearer and I just feel more motivated and excited about life in general (I think my smile in my progress pics says it all!).
Soooo…results so far…
                 Week 1             vs       Week 5                                  Week 1            vs        Week 5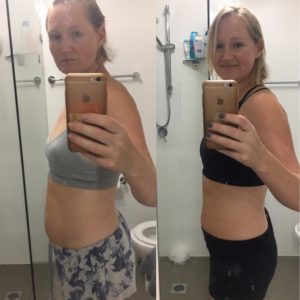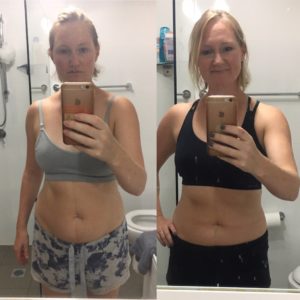 Weight: 72kg down to 69.75kg
Dress size: 12/14 at start and now a comfortable 12
Tummy: 96cm down to 88cm (super chuffed with this one)
Bottom: 103cm down to 101cm
Arms: 30cm down to 29
Thigh: 58cm down to 56cm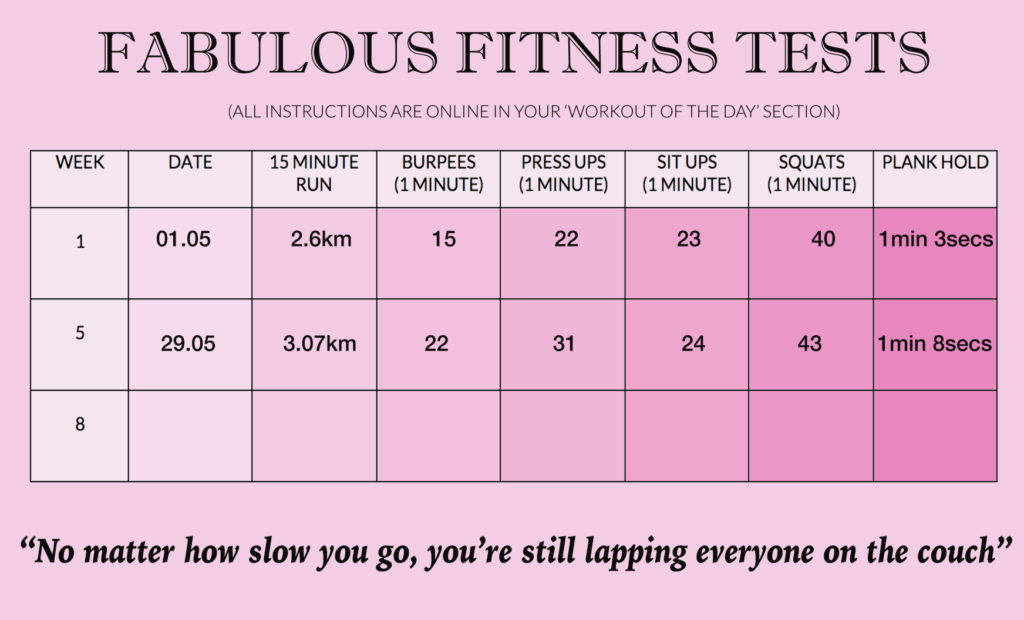 Very happy with my run, not so happy with plank hold and defo still some work to do on press ups!
BUT it's all steps in the right direction. Progress is progress after all!
🌟

Next steps

🌟
As I point out in the article of the day, the half way mark can be the make it or break it point:
"Be warned, you are now entering the danger zone! By now, you will have probably lost some weight and be feeling good about yourself. DO NOT become complacent. Fill the food diary in every single day, complete all the workouts I give you and read each 'article of the day'. Follow the programme and it will work. Remember you are not alone – get support from me and your family and, most importantly, KEEP GOING!"
So with that in mind, I'm going to set myself so mini targets for the next 4 weeks.
1. Lose 5kg altogether by the end of the 8 weeks so aim to be around 67kg by 26th June. Do this by continuing to meal plan and keep an eye on portion sizes.
2. Run 5km in less than 24 minutes (still a way off my personal best but I am slowly clawing it back)
3. Fit COMFORTABLY into my size 10 shorts. I can currently do them up but breathing (and sitting) is an issue 😂
4. Do 20 press ups without stopping. I managed 14 during the fitness test before I had to pause. I WILL do 20 in 4 weeks!
5. Hold a plank hold for 1 minute 30 seconds. This was the test I was most disappointed in. I can hold the plank for longer when I'm completely fresh but I found it super tough after all the other tests. It just shows my core strength is no where near where I want it to be.
If you're still reading by now – well done! It's a long post even by my standards 😄
At the end of the 8 weeks, I'm going to celebrate my progress (hopefully!) by doing my biggest ever special offer on my Kickstart programme.
….BUT if you're too impatient to wait and you'd like to start NOW, then amazing – let me know TODAY by sending me an email (lorna@alittlemorefabulous.co.uk) or message on facebook and I'll give you an EXTRA BIG DISCOUNT for taking action and control of your health. After all, starting is the hardest part. Let's get you going 🙌
To pop over to the Facebook page just click here 
And if you want to have a more detailed look at how my Kickstart programme actually works, then click here and I'll whizz you over to the Kickstart page for all the info!