Charlotte's Story
I found the Kickstart programme online and I was incredibly excited. It sounded like it might be the one thing that finally helped me.
I embrace it all 100% and right from day 1 Lorna was there whenever I needed to ask a question.
The exercise sessions are short, getting progressively slightly longer so very easy to fit into your schedule, however manic!
The food diaries massively helped - I am now eating fresh, delicious food and feeling full by adding protein and lots of fresh goodness. I honestly feel like a different person, not craving sugary treats.
The private Facebook group is also fantastic with other like-minded people sharing recipes/motivational pictures and quotes.
At the end of the 8 weeks, I am 18lbs and 39cms down. I am feeling great and so motivated to keep going. It's given me a huge boost.
I'm actually running around playing football etc with my children instead of being the mum I was before who sat and watched. There is no going back now. I've learnt so much and I know how good being healthy makes me feel.
Before / After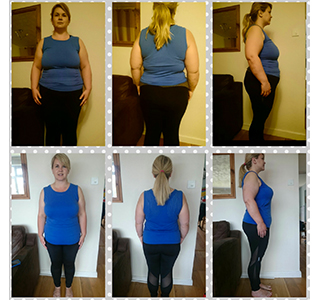 Charlotte's Results
| | |
| --- | --- |
| Total Weight Lost | 1 stone 4lbs |
| Total CM's Lost | 52cm |
Charlotte's Advice for new users
This plan really does work if you give it your all, you'll begin to notice the difference in as little as 2 weeks which really spurs you on! The biggest difference for me was planning meals ahead and being prepared for those times when I needed to grab something quick or needed a healthy snack to hand so it couldn't go wrong!