Suzie's Story
I looked into lots of different diets and having tried most of them I knew this time had to be different. It had to be something that would be flexible and fit around family life. I knew it had to be easy to follow and concentrate on becoming fit and healthy not just focus on weight loss. I wanted to learn how to look after my body.
That is when I found Lorna's 8 week Kickstart Programme. It offered everything i was looking for - and more! There are workouts to do at anytime and because they are all online I had no excuses for not fitting them in! I loved filling in the food diaries and getting personal feedback each day meant I began to learn where I was going wrong and little changes I could make. I really love the Facebook group - it is full of ladies like me and we share loads of meal ideas as well as support and cheering each other on. It makes such a difference having a team behind you!
I now plan all my meals (which has also saved a lot of money on shopping). Before the 8 week programme, a typical day of food looked like this:
Breakfast was 2 slices of white bread with lots of butter and chocolate spread. Lunch would be a whole pizza and dinner was a massive bowl of pasta with cheese on top and garlic bread. I also drank lots of diet coke and wine and would snack on chocolate bars. Not healthy!
Now I have overnight oats with fruit and yoghurt for breakfast. Lunch might be a salad with a wholemeal pitta and dinner always involves lots of vegetables with sweet potato and then some protein like a quorn steak (I'm veggie!). I drink mainly water now and I snack on nuts and seeds. I love the homemade no sugar flapjacks in the recipe area - I always have one with me in case hunger strikes!
I have so much more energy and my skin is clearer. I lost 19lbs in the 8 weeks and lots of inches. I have bought size 14 leggings! My job is easier and I can walk upstairs without getting out of breath. I feel like I am going to be around for my daughter forever and I am beginning to love life again.
Before / After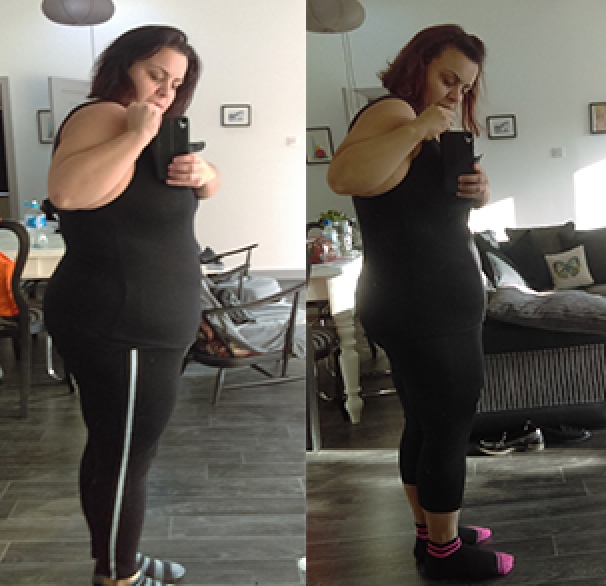 Suzie's Results
| | |
| --- | --- |
| Total Weight Lost | 1 stone 5lbs |
| Total CM's Lost | 32.5cm |
Suzie's Advice for new users
Don't overthink it, just do it. Start today and look forward to finding the healthier, happier you like I did!