Me!'s Story
I began 4 weeks before my 36th birthday. I was tired, sleep deprived and still adjusting to life as a mummy as well as moving to Australia. A LOT of life changes had happened in a relatively short space of time. I didn't really feel like me any more and I realised that eating crap and not exercising was only making me feel worse.
I knew my programme worked (after all I designed it!) so I knew exactly what I needed to do to kickstart my health and fitness. Making it public was the best motivation...on the days I couldn't be bothered, I remembered that I would be sharing my results and wanted them to be good. The hardest part was actually making the decision to start. Within a week, I felt so much better that it spurred me on. It is amazing what good food and exercise can do. Powerful stuff. By my birthday I felt like me again. I was beginning to enjoy exercise and eating healthily meant I actually had energy. Never underestimate how good feeling in control can feel.
I wan't perfect and I had numerous slip ups but I kept going. By the end of the 8 weeks I had lost nearly 5kg and lots of cms (especially around my tummy) but the most important change was in how I felt in myself and my mindset. I was so much more positive. Life was exciting again and my motivation for everything was at a high.
Plus, it showed me exactly why my programme works so well (I feel very proud of it!!). Taking it one day at a time meant I didn't feel overwhelmed. My ladies in my Facebook group were a constant source of support and inspiration and as I re-read the articles I had written, I remembered what was really important in life. In short I learnt how to balance being a mummy and still being me. Priceless.
Before / After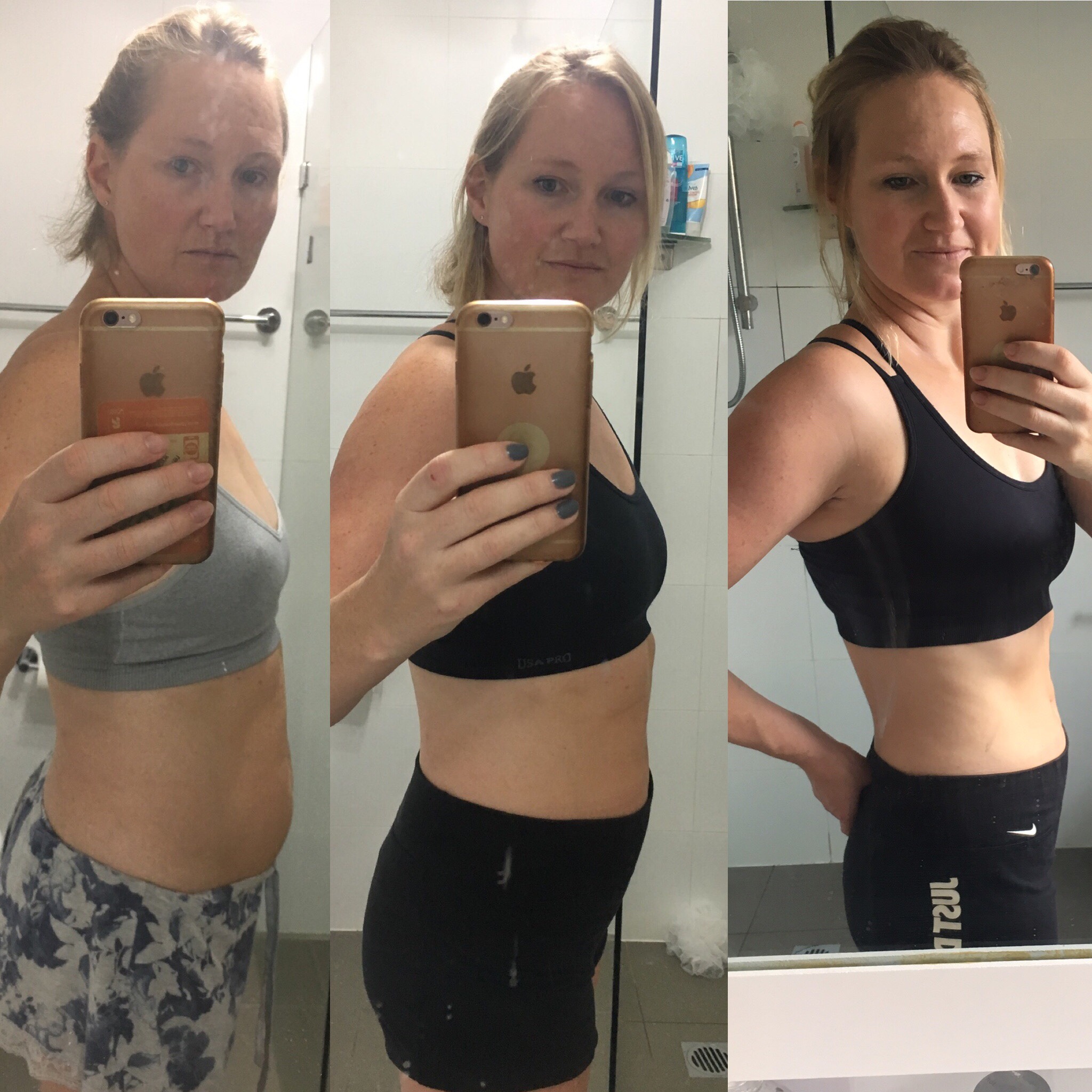 Me!'s Results
| | |
| --- | --- |
| Total Weight Lost | 4.5kg |
| Total CM's Lost | 15cm off my tummy (my most squishy part post James!) |
Me!'s Advice for new users
I'm obviously completely biased because it's my programme buuuuuttttt it really works! The hardest part is making the decision to change. Once you've done that, I literally hold your hand through every step of the programme. One day at a time. And if I can do it whilst being a new mummy and having relocated to the other side of the world, then you can too!