Day 40:
Be mindful and be positive.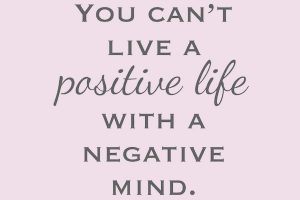 This quote sums up my mantra from the week.
I've had a really lovely weekend filled with the things I love most – spending time with my boys, seeing friends, swimming in the sea, reading my book, exercise and walks in the fresh air…oh and sleep! I've managed a few sneaky naps 
🙂 Hurray!
It's been the perfect way to reset and I'm feeling so much better because of it.
Today's article of the day is all about letting go of negative thoughts. It's so easy to let that little negative voice in your head spiral out of control. One negative thought leads to another…and another and before you know it, you're feeling pretty miserable. The good news is that it is ALWAYS possible to turn it round – you are in control.
Do the things that make you happy: spend time with the people you love, put on your fav song, get outside into the fresh air, sit in the sunshine with a cup of tea, watch a good film, have a long relaxing bath, read a few chapters of your book…whatever works for you.
Never underestimate how important it is to look after your mental health as well as your physical body…you really can't have one without the other.
What would make you happy today? Find some time to do it.
Happy Monday everyone!
Here's a video of Coogee beach from 7am Saturday morning…James was awake at 5am so rather than try to get him back to sleep (which never would have happened), we got up, grabbed a coffee and walked down to the beach to watch the sunrise. Just beautiful and the most perfect start to the day. Instead of feeling grumpy and tired, I felt like I had embraced the early start and got the most out of it.
P.S Don't forget you can start your own 8 week journey at any time – just pop over to my Kickstart page to get all the details or fire me a quick email and I'll get straight back to you. Don't put your life on hold any longer. Click here now.
And my Facebook page has loads of tips and advice too – if you haven't already liked it, do it now! No time like the present 🙂